Where were you when the world shut down in March of 2020?
Like other major historical events, this will be a question asked for decades to come. After months of speculation about a possible virus, how businesses chose to proceed was critical to their success.
IT support became crucial as many people were sent home to continue working from makeshift home offices. Flexible IT services that worked with both your in-office and remote workers were often the difference between success and failure. 
Managed service providers (MSP) became many businesses saving grace. MSPs who offer on-call services, 24-7 reliability, and expert IT solutions that fit within your budget became the backbone of businesses' remote workforce. And for those companies with in-house support, an MSP is the perfect supplement to your overwhelmed IT department. 
Don't waste another second managing your own IT services. Talk to the experts instead.
What Is A Managed Service Provider (MSP)?
MSPs are outsourced IT experts dedicated to making the most of a company's budget. As an MSP, Brooks IT Services ensures our clients' IT needs are always met. Our services include:
Network security

Cloud computing

Data migration

IT risk management
When researching MSPs, you could find someone who offers very basic services. Or you could find an MSP who becomes an essential part of your team. Professional MSPs are experts in what they do and care wholeheartedly about their clients' success.
Cyber Security Services
Despite their size and assets, small businesses are increasingly targeted by hackers. This comes as an unwelcome surprise to many small business owners who assume they're not big or important enough to be on any nefarious lurkers' radars.
However, hackers don't see small businesses as "not worth the trouble". Instead, hackers see every opportunity as a chance to either pad their own pockets or gain infamous notoriety among the hacker community.
This is why cybersecurity services are so important to businesses of all sizes. MSPs take the guesswork out of your security vulnerabilities. Brooks IT Services helps identify, neutralize, and prevent cyber threats so our clients can focus on running their businesses. Our cybersecurity services include:
Business Continuity

Disaster Recovery

Phishing Training

Dark Web Monitoring

Email Spam & Virus Filtering

Maximum System Uptime
Cloud Services
We've said it before, and we'll say it again. If you're not in the cloud, you're living in the dark ages. 
There was a time when in-house servers were considered innovative. But as technology changes, so do those in-house server sentiments. These days, people are on the go. For small business owners, this means securely staying in touch with your business, vendors, employees, and customers from anywhere you happen to be in the world.
Remote Work & Disaster-Proof Solution
Cloud computing solves the issue of remote work. Yep, you can write a business contract and have it e-signed while sipping a cocktail on the beach in Mexico. 
On a serious note, you can get the same amount of efficiency and performance from team members in and outside of the office, wherever they are. But convenience isn't the cloud's only benefit.
In fact, cloud computing is secure AND can make disaster recovery a breeze. As a Houston business owner, we assume you're familiar with hurricanes. If a storm were to blow through your place of work and destroy all the equipment, the cloud could make a world of difference. For instance, an in-house server would be toast, along with ALL of your crucial data. But with the cloud, you can simply log in to another device and continue operations as usual. All of your data, programs, and software will still be accessible. 
So even if some or most of your team is unable to access their regular workload, others can sign in to the cloud, check on performances, and make any necessary changes if needed.  
Communication Support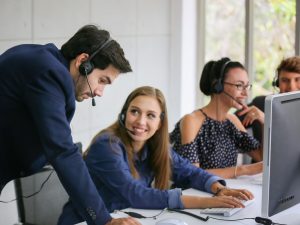 Lack of support results in hours of downtime, wasted efforts, and an imbalanced shift in focus. Everyone wants to be a problem solver, but not everybody can be. One of the best ways to reduce downtime is through a communicative support system like a ticketing system. In addition to having a process in place, it helps to have the expert advice of IT professionals who can get to the root of the issue quickly with efficient solutions at hand. 
Everyone has been there at one point or another. You run into an IT issue and you immediately decide to ask for help from the person sitting next to you. Before you know it, people from all over the office crowd your desk to see if they can help solve the problem by putting their advice forward. What would normally take a ticketing system a few minutes has now cost you and your business time and effort that could have been used elsewhere. 
Implement a ticketing system, and you can reap the following key benefits:
Allow those you hired can focus on their job and tasks at hand

Keep the attention of your in-house IT team on their main project

Eliminate the problem faster with experts on the other side
This means anything from a password mishap to a breach in security can be handled through a communication support system without wasting other people's time. 
Unload Extra IT Department Duties
Have you talked to your IT teammates lately?
If you can, set aside some time to see how everyone feels about balancing their workload. Then, take a look at your budget. It can be expensive to hire another IT professional full-time. In the U.S., IT managers make around $151,150 a year. However, if you're looking for a solution between a brand new hire and overworking your team, use outsourced management services instead. You're more likely to pay less than you would to bring someone else on board, and you can save time on training, benefits, etc.
If you haven't thought about it before, you can use outsourced IT services to supplement your IT team without making them feel like they're being replaced. Especially when you have major projects going on with strict deadlines, your IT team can easily get caught up in solving small problems here and there throughout the office. The more they're pulled in multiple directions, the less time they can spend on achieving their main goals. 
Leave the trivial tasks up to the BITS team, and allow your in-house department to keep their focus on the bigger picture.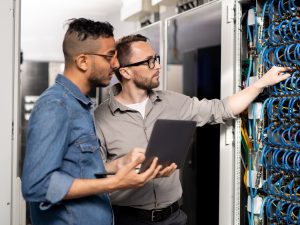 MSPs Are Available When You Aren't
As much as you love your team of dedicated employees, not a single one of them can place their focus on your IT needs 24 hours a day, 7 days a week. That's one of the greatest benefits of having an MSP. Around-the-clock monitoring and maintenance are built into its strategy. You can rest easy knowing that your cyber security is constantly alert even when you're away from your workspace. 
Continuous monitoring is another benefit for work structures that follow a flexible or remote working pattern. Because some of your employees may live to feel the sunrise bright and early as they sip their coffee and begin their day. Others may enjoy a cozy evening of work while the atmosphere is quiet and most people are asleep. Regardless of the time of day, your employees are online, browsing the web, working, and communicating with one another across several platforms. So having an MSP monitoring system that can keep up with everyone's work schedule is a plus. 
Bounce Back From A Cyberattack Faster
Finding the right IT support for your organization is a challenge (and even more so if you experience a breach in data). Your MSP allows for quick thinking and takes proactive measures with experts behind the scenes. As soon as you've experienced a cyberattack of any kind, every minute counts. And you can't waste a single moment calling in employees one by one to solve the problem. MSPs are always ready to work with you to lock down your data, act swiftly, and prevent further damage.
BITS Is The MSP Made For Houston Businesses
With over 25 years of experience solving other companies' IT problems through management services, we know what business owners need in an MSP to continue growing. We work with clients to provide timely and cost-effective solutions you can implement right away. No "geek speak," and reports help you run your business without missing a beat.
Optimize your business performance with an effectively managed service provider in Houston. Talk to the BITS team today.