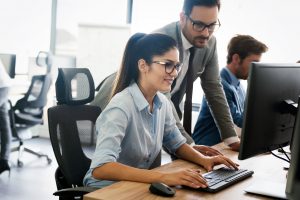 In 2021, every company needs technology to operate.
Technology has become the standard.
But unless your company is large enough, it probably does not make fiscal sense to employ full time in-house IT support. Instead, you need the amount of service you need when you need it most… And from trusted IT experts.
While it's tempting to DIY your company's IT, discover the benefits of outsourcing IT services and IT support.
7 Benefits Of Outsourcing IT Services & IT Support
Outsourced IT support is remote IT support. How does this compare to one dedicated IT employee on-site?
When you outsource IT services and IT support, you are basically hiring a team of IT professionals. Furthermore, a member of this team will always be available. No matter your preference of communication, you can via email, phone, text, and more to help with any and all IT needs.
Your team of professional IT services and IT support providers help manage the network, users, services, and devices integral to your company's operations.
1. Availability
All reputable and competitive outsource IT service and IT support firms – like Brooks IT Services – offer 24/7 support plans. Dedicated teams are always on standby to help you right away.
Don't worry about your IT expert being out with the cold or on vacation ever again! Just like your cloud IT managed service, your IT support is on-demand available whenever you need it.
Need to travel for work to different time zones?
What happens if you find yourself battling technology across the world?
When you outsource your IT services and IT support, this scenario can be handled just the same as any other normal day in your normal timezone.
2. Expertise
We've all heard the phrase, "you get what you pay for."
You hire a builder to build your house.
A mechanic to work on your car.
Even a locksmith to change your locks.
Why?
Because you want things done right the first time. And you want the results to keep you, your family, and your assets protected.
The world of IT services and IT support is no different.
Maybe you've been able to troubleshoot some problems on your own. That does not mean you have the needed expertise to keep your network maintained and safe. If you don't have the expertise to secure your business data and infrastructure, doesn't it make sense to hire a professional?
The success and integrity of your business depend on it.
Interested in outsourcing your IT services? Schedule a call with Brooks IT Services here.
3. Cost-Effectiveness
It's no secret hiring a person is expensive! Hiring costs, payroll, payroll taxes, benefits, etc. Instead, invest in full-time protection at a fraction of the cost of a full-time employee.
You can customize your outsourced IT support and IT services to adapt to your growing business. Pay for what you need now.
There are a lot of other costs associated with hosting your own IT department – including maintaining on-site servers. If there is a lapse in maintenance or attention, you could be putting your business and your clients at risk.
The professional maintenance and monitoring of IT services and IT support can keep your business running smoothly. This is done by catching problems early or even avoiding potentially costly problems altogether.
By outsourcing cloud IT services, you'll relax knowing you have an up-to-date and secure server for your data.
4. Guaranteed Compliance And Security
Your clients value your expertise and trust you to keep their information safe.
If you are not personally in the business of IT security, you are leaving yourself and your clients vulnerable to attacks.
Imagine an attorney who has confidential files on their clients. If that attorney's network is hacked, then the attorney-client confidentiality may be compromised. This would reflect poorly on how anyone runs their business. But it also could also be a serious legal compliance breach.
You work hard. So are you going to trust just anyone with your most confidential and proprietary information?
What you need is a reputable, insured, and educated IT professional. Contact Brooks IT Services for all your IT needs.
5. Versatility
Was your business able to adapt to working from home this year?
With the onset of lockdown due to COVID-19, the importance of versatility has never been as important as it is now. Outsourced IT services and IT support can manage all of your technology needs on all your devices. In addition to seamlessly moving your workstation home, you can work virtually from anywhere.
Whether you're still in the office, working from home, or sitting on the beach, your IT services and IT support will be covered by your cloud services provider.
6. Scalability
Another benefit of outsourcing IT services and IT support is the scalability factor.
If your business is small, get just the amount of service you need.
As your business grows, you can add to the services needed.
Moreover, by outsourcing IT services and IT support, you are giving yourself more time to focus on the big picture. The amount of time consumed by battling technology gets in the way of doing what you do best. Any successful entrepreneur will tell you a major part of being successful is… Outsourcing! By delegating responsibilities, business leaders can focus on growing their business.
7. Resource Optimization
Do the programs you depend on work to the best of their ability?
If you're juggling everything on your own, the answer is probably no.
When you outsource IT services and IT support, you have a team of IT experts who can ensure that your resources are functioning at peak performance.
Whether you are content with the status of your business or looking for growth, everyone needs their business to run smoothly.
If reaching out to third-party applications for support gives you headaches, then you need a better support system. This is why you need to get the best service provider to help you keep your eyes on the prize. And keep doing what you do best!
Ready to Outsource Your IT?
Your information technology is critical to your operation. That's why we invest in the greatest technology and solutions for our clients – allowing them to focus on growing their business.
Contact Brooks IT Services today to get your IT in tiptop shape!